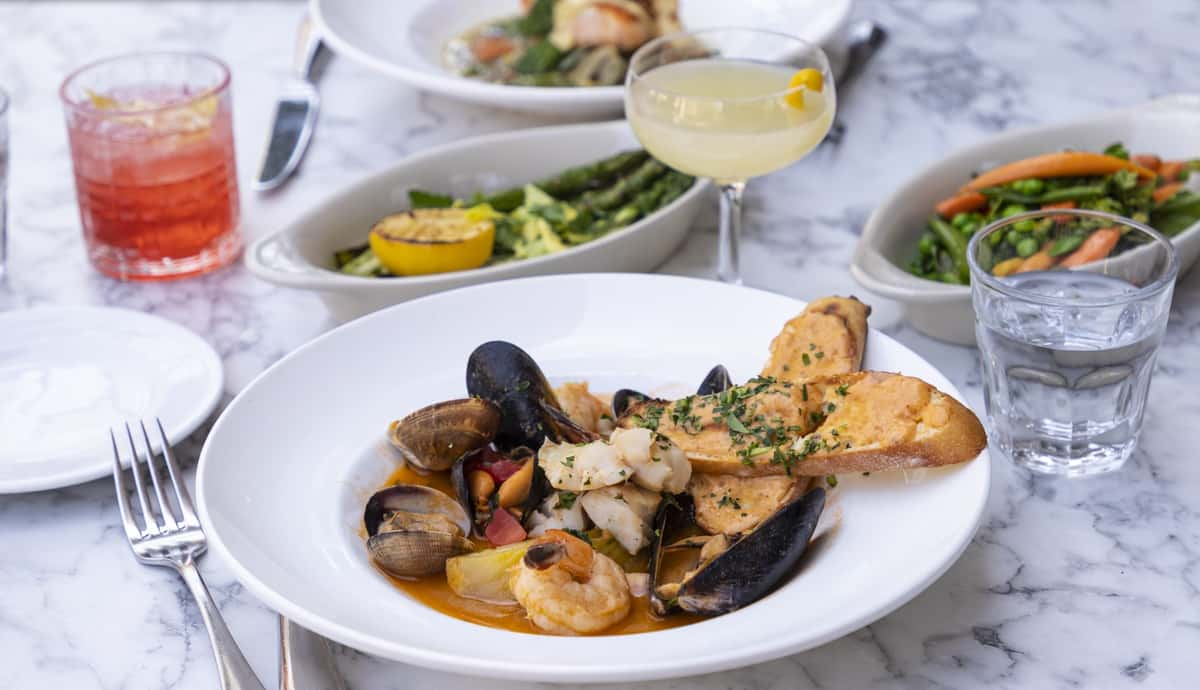 We're Celebrating Spring with Fresh Menu Offerings and Cocktails!
We're Celebrating Spring with Fresh Menu Offerings and Cocktails!
Spring is now in full swing, and with it comes the promise of fresh, vibrant flavors that are perfect for a season of renewal. At Left Bank, we are proud to highlight the best of spring with our revamped menu featuring dishes that showcase the bounty of fresh, local produce and seafood sourced locally in the San Francisco Bay Area.
Asparagus Salad
One of our standout dishes this spring is our new Asparagus Salad. Our chefs have combined the delicate flavors of fresh asparagus with a light and refreshing sauce gribiche with fines herbs to create a dish that is both satisfying and full of flavor. The asparagus is sourced locally from farms in the Bay Area, ensuring that it is fresh and flavorful.
Salmon
Our Salmon dish is another highlight of our spring menu. We work with local fishmongers to source the freshest and highest-quality salmon available. Our chefs then prepare it to perfection, ensuring that it is tender, juicy, and bursting with flavor. Served with a side of locally-sourced artichokes en barigoule and aïoli, this dish is a true celebration of the season.
Pea and Mint Ravioli
For those looking for a vegetarian option, our Pea and Mint Ravioli is a must-try. This dish features handmade ravioli filled with a delicate mixture of fresh peas and mint. Served with a light and creamy sauce, it is the perfect balance of flavors and textures.
Duck Confit
Our Duck Confit is a classic French dish that we've just updated for the spring season. Served with pearl couscous, cherries, fava beans, roasted spring onions, and fiddleheads, our Duck Confit is a hearty and satisfying dish that is perfect for warming up on a cool spring evening.
Grilled Pork Chop
Our Grilled Pork Chop is another hearty and satisfying dish that is sure to satisfy even the heartiest appetite. This Left Bank staple is now being served with a flageolet bean ragout, as well as a springtime blend of fresh carrots, leeks, and grain mustard sauce.
Spring Cocktails
To complement our new and updated menu offerings, we are also featuring a selection of new spring cocktails that are sure to delight. Our Oh La La Sour is a colorful, layered cocktail made with Conciere Silver Rum, pineapple juice, and Fee Brothers Orgeat, then layered with a Banshee Cabernet Sauvignon float and egg white. Our Limonade Aux Baies is another refreshing cocktail great for the warmer days, made with Hanson Meyer Lemon and a combination of fresh strawberry, basil, and jalapeño (for a spicy kick).
For those looking for something a bit more moody and rich, our Truffle Boulevadier is a must-try. Made with a blend of Conciere Bourbon, Campari, Lo-Fi Rosso Vermouth, it is a cocktail that is sure to impress. Our Cassis Sour is another standout cocktail that features John Barr Black Scotch, Giffard Crème de Cassis, lemon, Fee Brothers Orange Bitters, and egg white, for all of our scotch aficionados out there.
At Left Bank, we are committed to sourcing the freshest and highest-quality ingredients available. By working with local farms and fishmongers, we are able to create a menu that is not only delicious but also sustainable and environmentally friendly. We hope that you will join us this spring to experience the best of local produce and seafood in the San Francisco Bay Area.
Our spring menus are currently available at all four of our locations across the Bay: in Larkspur, Menlo Park, San Jose, and Oakland. We invite you to give us a call or visit us here to make a reservation today to try out these delicious new offerings!