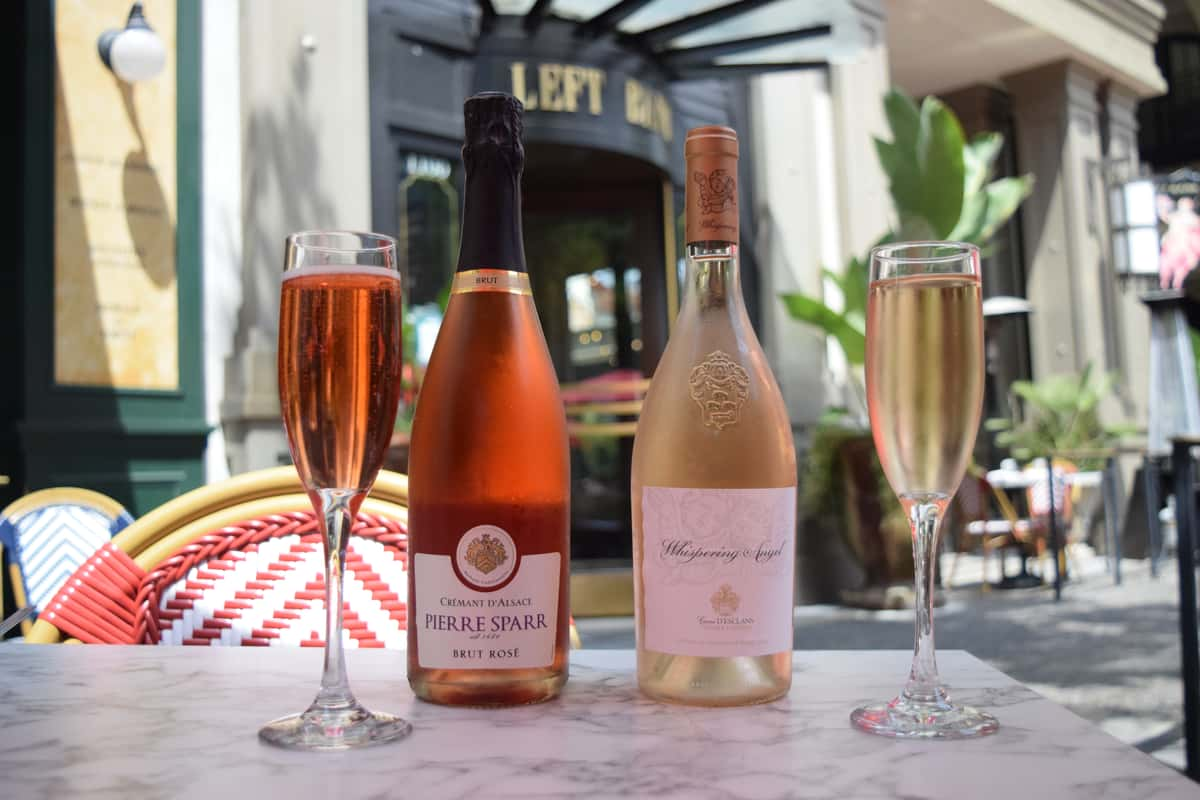 Experience the Delight of Rosé All Day at Left Bank
Experience the Delight of Rosé All Day at Left Bank
With spring in full bloom and National Rosé Day being celebrated today, June 10th, it's the perfect time to indulge in the delightful world of rosé wines. At Left Bank, our French restaurant with four locations in the Bay Area, we're celebrating the season by offering an exceptional selection of rosé wines on our menu. Join us for a Rosé All Day experience that will transport your taste buds to the vineyards of France.
Our wine list showcases a range of exquisite rosé options that are carefully curated to ensure a memorable dining experience. Whether you're a connoisseur or new to the world of rosé, our knowledgeable staff will guide you through the selection to find the perfect wine to suit your palate. Allow us to introduce you to a few of our standout rosé wines:
- Our 2021 "Whispering Angel" Château d'Esclans Rosé Côtes de Provence from Provence, France (Glass: $14, Bottle: $56)
- Our Sparkling Pierre Sparr, Brut Rosé, Crémant d'Alsace from Alsace, FRA (Glass: $15, Bottle: $90)
- Our Domaine de Cala, Coteaux Varois en Provence from Provence, France (Glass: $15, Bottle: $60)
These are just a few of the exceptional rosé wines we offer. Each glass is a testament to the craftsmanship and dedication of the winemakers, reflecting the unique terroir and flavors of their respective regions. From light and crisp to more complex and structured, there is a rosé for every taste preference.
The experience of savoring a glass of rosé in the springtime is truly delightful. The pale hues and refreshing acidity of these wines make them the perfect companion for sunny afternoons and al fresco dining. With their versatility, rosé wines pair beautifully with a variety of dishes on our menu, from fresh salads and seafood to grilled meats and vibrant vegetarian options.
At Left Bank, we take pride in creating an ambiance that complements the flavors of our wines. Our warm and inviting restaurant with its French-inspired decor sets the stage for a memorable dining experience. Whether you're joining us for a romantic evening, a gathering with friends, or a special celebration, our attentive staff will ensure that every moment spent at Left Bank is filled with culinary delight.
As National Rosé Day approaches, we invite you to celebrate with us at Left Bank. Join us today, June 10th, to indulge in the splendor of Rosé All Day. Let our sommeliers guide you through our impressive wine list, and allow your senses to be captivated by the flavors and aromas of France. Cheers to the beauty of spring and the joy of sipping rosé in the company of good food, good friends, and an atmosphere that transports you to the Left Bank of Paris.
Make your reservation today and join us for an unforgettable rosé experience at Left Bank. À votre santé!