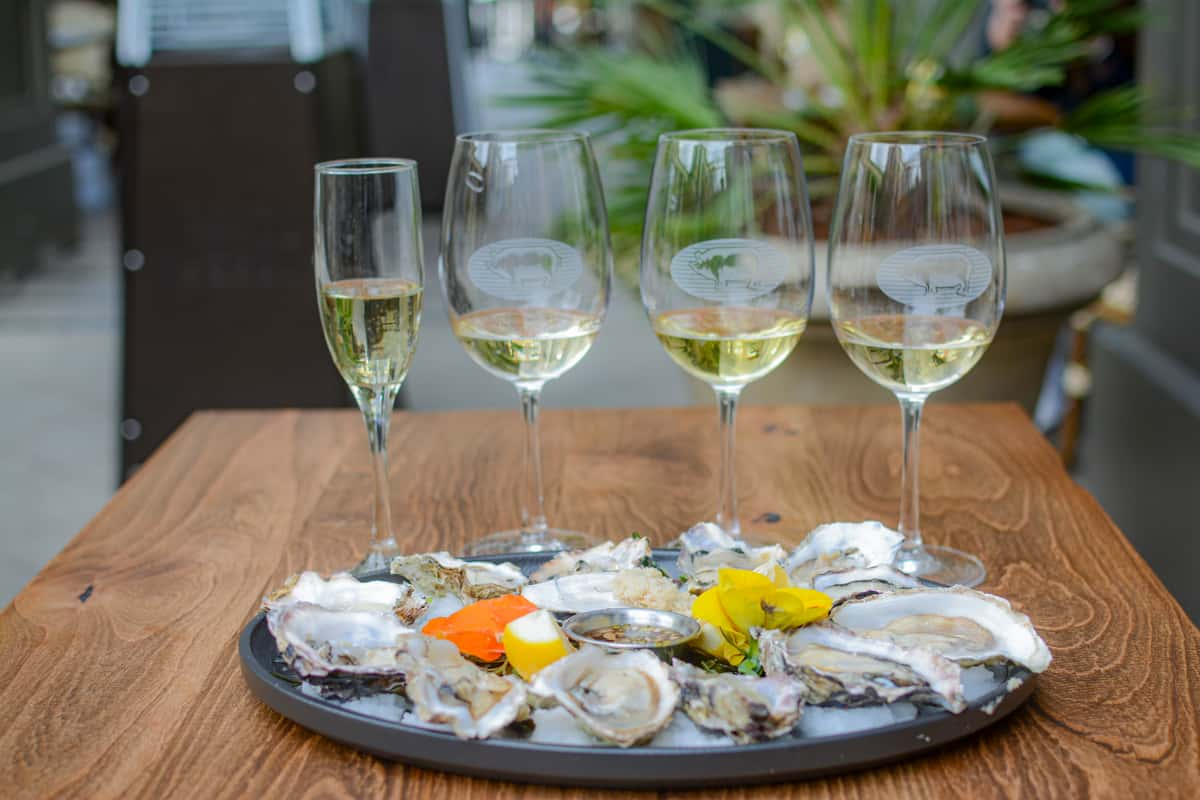 Celebrating All Things Oyster this 2023 Oyster Fête!
Celebrating All Things Oyster this 2023 Oyster Fête!
Written by Haili Langston
In honor of National Oysters on the Half Shell Day, Left Bank Brasserie is proud to announce that we'll once again be honoring a beloved tradition by featuring an exquisite oyster flight with accompanying wine and champagne pairings during our annual Oyster Fête celebration.
Delight in Our Special Oyster Flight
Prepare to tantalize your taste buds and indulge in the ultimate sensory experience here at Left Bank. Our carefully curated Oyster Fête oyster flight boasts a stunning selection of raw oysters that will transport your senses to the coast of California and beyond.
Allow us to introduce you to the culinary delights that await you in our oyster flight — a combination of a dozen premium oysters (three each of the following four varieties). First on the tasting menu is the Point Reyes oyster from Point Reyes, CA, whose elongated and rough shell displays intricate folds and houses a mild, nutty flavor. Then, you will get to try the Kisu Petite from British Columbia, with a plump and sweet meat that delivers an initial brine, followed by a crisp finish reminiscent of Bosc pear.
But that's not all — our menu also features the Samish Pearl from Puget Sound, WA, which boasts full and firm meat that releases delicate cucumber notes and a crisp, salty brine. Last but not least, we present the Humboldt Gold oyster from Humboldt Bay, CA, with a beach-cultured plump meat, medium brininess, and delicate, buttery flavor.
Each oyster on our flight has been specially paired by our Sommelier with either a champagne or white wine, to perfectly complement each one's distinct flavors. We highly recommend trying this wine flight with your oyster flight to get the full experience out of your visit during Oyster Fête!
View more event details and the full menu here.
Origins of the French Oyster Fête
The oyster has been a culinary delicacy for centuries and has a rich history in French culture. One of the most famous celebrations of the oyster is the Fête de l'Huitre (Oyster Festival), which takes place in the coastal town of Cancale, Brittany, France. Their Oyster Fête is a celebration of the local oyster farming industry and the town's heritage as a fishing community, and it draws visitors from around the world to sample the region's finest oysters and other seafood dishes.
The origins of the Oyster Fête can be traced back to the 19th century when oyster farming began in Cancale. The local fishermen developed a unique method of cultivating oysters in the sea using wooden stakes to create beds. This method allowed the oysters to feed on the nutrient-rich waters of the Bay of Mont Saint-Michel and grow to a plump and succulent size.
As the oyster farming industry grew, the town of Cancale became known for its excellent oysters, and in 1867, the first oyster fair was held to celebrate the harvest. The fair was a great success, and it eventually evolved into the modern-day Oyster Fête.
The Oyster Fête has become a significant cultural event in France, celebrating the country's rich seafood culture and the hard work of the fishermen and oyster farmers who make it possible. We here at Left Bank like to pay tribute to this tradition with our annual Oyster Fête, also aiming to highlight locally-sourced oysters and our community.
We welcome one and all to come celebrate the Oyster Fête with us this weekend and indulge in some fresh and delicious oysters!