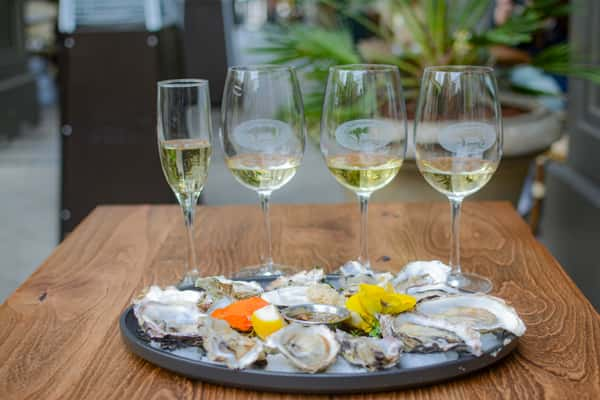 Oyster Fête 2023
Mollusks and merriment abound at Left Bank as we celebrate National Oysters on the Half Shell Day with our annual Oyster Fête! We've hand-chosen the best of the sea to showcase the beautiful bivalves, so sip and slurp these sweet and succulent shellfish along with our Sommelier's specially selected wine pairings! Available all day, regular menus also available.

OYSTER AND WINE FLIGHT
1 DOZEN ASSORTED PREMIUM OYSTERS 45
~3 of each selection~
~add Sommelier's wine pairing for each oyster selection 20~


POINT REYES
Point Reyes, CA
~Charles de Cazanove, Brut, "Tete de Cuvee", Champagne, FRA NV~

The shell of this oyster is elongated and rough with an intricate display of irregular folds. 
The meat has a mild, nutty flavor.


KISU PETITE
Desolation Sound, British Columbia
~Trimbach, Pinot Blanc~

Plump and sweet with an initial brine, followed with the crisp finish of Bosc pear.


SAMISH PEARL
Puget Sound, WA
~Domaine Laroche, "Mas la Chevaliere," Pays d'Oc, Languedoc, FRA '18~

Full firm meat relinquishes delicate cucumber notes and a crisp salty brine.


HUMBOLDT GOLD
Humboldt Bay, CA
~Hugel, "Classic," Alsace, FRA '19~

This beach-cultured oyster from Humboldt Bay features full, plump meats 
with a medium brininess and a delicate, buttery flavor.